kbuli| print | manage
Matriculation ceremony for the first year students in academic year 2017/2018
Matriculation for the first year students in academic year 2017/2018
Matriculation for the first year students in academic year 2017/2018 (Groups 1051-1056, 1151)
Where: The official festive matriculation will be held in the big auditorium of Karolinum (Ovocný trh 3, Prague 1)
When: Thursday 19.10. 2017 from 3pm.
Please come at 2 pm in a formal dress. Attendance is compulsory.
Lectures and practicals on 19.10.2017 will be cancelled.
Please read carefully attached SCENARIO of the ceremony and remember it! Clapping and talking during the ceremony is not allowed!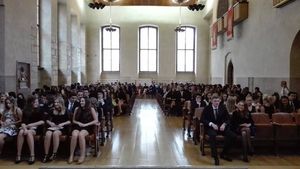 Page ranking:
(by 5 users)
If you think the article is not up-to-date, click here.